Inauguration of "Women in Motion at West Bund", a program to celebrate women's creativity in dance and choreography
From October 22 to 24, 2021, Kering and the Centre Pompidou x West Bund Museum presented Women in Motion at West Bund in Shanghai, a three-day contemporary dance festival aiming to celebrate, promote and support women's creativity in choreography. MB Projects is very proud to have helped Kering build this new and meaningful Women in Motion initiative in China.
Curated by Chloé Siganos, Head of Performing Arts at Centre Pompidou, Paris, Women in Motion at West Bund presented three emblematic French and Chinese choreographers: Mathilde Monnier, Duan Ni, and Shi Jingxin, celebrating their identity as artists and women, their freedom, their commitment, and their tremendous creativity: a great inspiration for the generations to come.
During this three-day festival at the West Bund Museum, the public enjoyed dance performances, workshops, and artists discussions: a deep-dive into the world and creative process of the three choreographers. Due to travel restrictions, Mathilde Monnier participated in the program through a long-distance collaboration with Duan Ni: in an unprecedented dialogue between both artists, she transmitted her two solos from her iconic piece Publique.
Duan Ni – who is well-known as the co-founder and artistic director with Tao Ye of Tao Dance Theater – also premiered, especially for Women In Motion at West Bund, her very first solo creation, The Portrait of the Crowd. Finally, choreographer Shi Jingxin and her troupe presented a new dance work from her Body Museum Series No. 2. Festival participants could also attend a dance workshop directed by Duan Ni, and two very inspiring artists' conversations moderated by Shanghai Theater Academy professor Jess Situ.
"These two solos are dances of powerful women who assert themselves in their relationship to the music. It is the image of a free woman who lets herself enter into the fusion with music and expresses her emotions directly. Duan Ni is an extraordinary artist and dancer, it was a very nice experience to be able to cross the oceans virtually to meet her and to exchange. I feel that it is an experience that has touched her a lot and she has touched and moved me." – Mathilde Monnier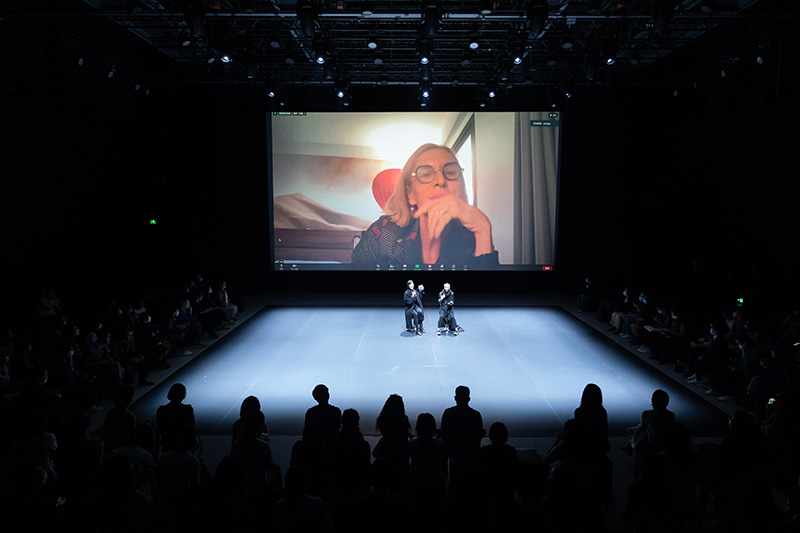 Launched in 2015 at the Festival de Cannes with the aim of shining a light on women in cinema, Kering's Women In Motion has been a platform of choice for helping to change mindsets and reflect on women's place and recognition across artistic fields. Since 2016, the program has been expanded to include the fields of photography, art, music and literature. This new initiative in Shanghai further expands the influence of Women In Motion to choreography and dance.
Based in Shanghai, MB Projects has been supporting Kering for the past two years in the strategy, conception and launch of this new Women in Motion initiative in China, with services including market research and strategy, project building and implementation, general coordination, communication and media, PR and event management.
MB Projects is a leading agency in cultural strategy and management in China. It was founded by Marion Bertagna, a trilingual China specialist, with 20 years of experience in China and in the culture field. MB Projects assists International and Chinese cultural institutions, creative industry companies, and brands wishing to explore opportunities, develop activities, implement cultural projects, build partnerships, or extend their visibility in China.
www.mbprojects-china.com
Copyrights:
Collaboration between Mathilde Monnier and Duan Ni, Publique, Shanghai, 2021 Photo © Fan Xi; Duan Ni, workshop, Shanghai, 2021 Photo © Fan Xi; Duan Ni, The Portrait of the Crowd, Shanghai, 2021 Photo © Fan Xi; Shi Jingxin, Shell Act. Spring Ksana, Shanghai, 2021 Photo © West Bund Museum